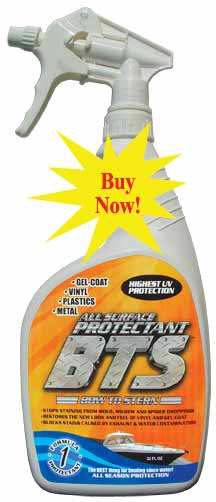 BTS Protectant
BTS Protectant is the industry's first one step all surface conditioning protectant that safeguards your valuable marine investments from the costly damage caused by exposure to the elements as well as the unpleasant effects of environmental contamination including, mold and mildew staining and related odors.
BTS Protectant's polymer technology leaves no chalky build-up like waxes that require application in the shade and during cool temperatures and can be applied in direct sunlight with minimal effort. Unlike spray and shine preparations that suggestion application after every outing, BTS will provide superior protection with occasional use. Regular cleaning is made easy with BTS and without the need for other cleaning products. Once applied, the special "polymers" seal and protect the treated surfaces, allowing for an easy wipe down with a damp cloth. BTS can be used to protect and beautify virtually all surfaces including fiberglass, gel coat, plastic, metal, carpet, vinyl, leather, painted surfaces and wood. BTS is ideal for keeping vinyl upholstery soft, supple and looking "showroom" new for years. Gel coat staining from engine exhaust, as well as spider-dropping stains are a thing of the past with the regular use of BTS. BTS adds a water and soil repellant finish to boat covers and canvas. Plastic windows will stay clearer and last years longer with BTS protection.
The BTS Formula was created as a time saving "all in one" conditioner/protectant specifically developed for the harsh environmental conditions of the Florida coast where sun, salt corrosion and mold and mildew cost consumers millions of dollars in property damage yearly.
BTS Protection is long lasting; retreat every few months, not every week or every outing as with other products. The oil free formula is not slippery and will not stain other materials that it may come into contact with.
For phone orders, please call us at: 1-877-221-9797 or click here to order from our online store.
Check out our our other fine products Line & Lure Conditioner.